Francesco Sole is a post-doc researcher at the Center for Value Management of the University of Basilicata in Italy.
Here is his study at a glance: he received his degree in environmental engineering in 2003, then he earned the MBA in 2006 and a PhD in advanced manufacturing systems in 2010.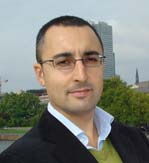 Francesco has been visiting researcher at the Institute of Business Information Management and Logistics - Tampere University of Technology (2008). He has given seminars and courses in private and public organizations in the area of performance measurement and management, project management and project financing, human resource management.
Since 2004 Francesco has worked as a consultant to public and private organizations including Basilicata Region, University of Basilicata, Formez and Ernst & Young. Francesco's research and consulting focus on the following areas: performance measurement and management and arts-based initiatives in public organizations, business strategy, knowledge intensive business services, intellectual capital management.