Roberto Linzalone is a research project manager within the Centre for Value Management at Basilicata University (Potenza, Italy). He is also in charge as Chair of the Institute of Knowledge Asset Management (IKAM) a non-profit cultural organization based in Matera (Italy). Roberto's research field is Business Management, with a focus on Project Management and Process Performance Improvement.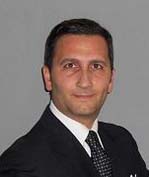 Roberto is particularly involved in promoting collaborations between academia and private companies, in order to develop and manage applied research, technology transfer, and pre-competitive development projects. He participated to several projects, like "Improvement of New Product Development Performances in Calia Italia S.p.A (stuffed furniture company based in Matera), "Innovative materials for Arts and Design" (at Material ConneXion, New York, NY, USA). Recently he is promoting research and product-process development projects dealing with the use of Arts for the improvement of Innovation process (i.e. New Product development, Change management).
He does training in some local SMEs, giving training on managerial tools, techniques and softwares for supporting business management and organization improvement.
In his spare time, Roberto enjoys playing basketball, jogging, visiting typical locations of the south Italy, and spending time with the wife and the friends.