Antonio Lerro is a Research Fellow and Senior Lecturer in Economics and Management at University of Roma 3 and University of Basilicata, in Italy. During his Ph.D. Antonio joined Center for Business Performance in the Cranfield School of Management, UK as Visiting Scholar. Recently, he has been Visiting Research Fellow at the Centre for International Competitiveness in the School of Management of the University of Wales Institute Cardiff (UWIC), UK.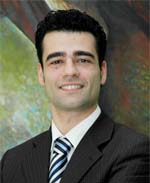 On 2011, he is one of the fellows of Arts4Business Institute. He is involved in research, training and advisory activities about arts for business issues. In particular, his interests focus around the following areas: cultural economics, role and impacts of cultural and creative industries for local development, cultural districts, geography of arts, creativity and culture, management of cultural organizations, adoption of arts-based initiatives for education and training purposes.
Antonio performs executive education running seminars and research projects for public and private organizations in Italy and abroad. He has authored or co-authored more than 30 publications, including books, articles and research reports.
He is a regular speaker at national and international conferences and involved in the scientific and organization committee of the International Forum on Knowledge Assets Dynamics (IFKAD). Moreover, he is junior fellow of the AiIG – Italian Association of Management Engineering – as well as member of the Regional Studies Association, UK.